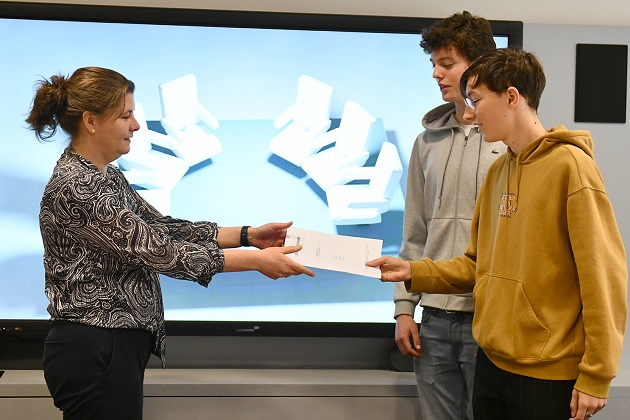 What should the layout of a future direct Wunderline train look like? A train that might run between Groningen and Bremen. Four pupils from the H.N. Werkman Stadslyceum in Groningen were given the opportunity to work out their ideas on this subject. Today, they presented the final result and personally handed it over to Fleur Gräper-van Koolwijk, deputy of the province of Groningen.
Innovative ideas
The students presented realistic yet innovative ideas for a possible direct train between Groningen and Bremen. Work and private compartments you can only enter with a QR code, an interactive app including an alarm button function, a vending machine with hygiene items, seating for larger groups, rotating seats and more. With an eye on even more comfort, accessibility and inclusiveness, and with the goal: more people choosing the train instead of the car.
Researching a direct train
After the presentation, Fleur Gräper-van Koolwijk received the final result. The province of Groningen is taking these valuable ideas into consideration when investigating the possibilities for a direct Wunderline train between Groningen and Bremen.